Each year, at the Annual Meeting of Members, three districts are up for election. The Nominating and Elections Committee works hard to bring the members of the cooperative six (at least two in each district) outstanding nominees to choose from. Below are the six candidates up for election in 2022. The winners will represent three of Dunn Energy Cooperative's nine districts for a three-year term. For more information on the area that these districts cover, please visit our Board of Directors page. 
District 2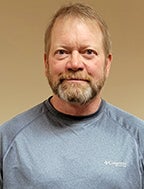 Bryan Andrews (Challenger- Town of Hay River)
As a farmer, I've used a lot of energy through the years, and as such, looked into ways to be more efficient and save money. Besides the obvious LED lighting I use, I adopted minimum tillage and no-till early in my career. When it came to grain drying, I switched my grain dryer to a dryeration system that saved upwards of 30% on gas. When I remodeled my house 10 years ago, I added a lot of insulation, low E windows, and geothermal cooling. Probably the biggest thing I've done, if you drive by my place is the 20kW solar photovoltaics array that provides the farm power.
Qualifications
Ran a successful farm operation for 45 years, until retiring in 2018. This included 1200 acres of crops, hogs, beef, and specialty crops. I became a co-op member in 1978 when I constructed my first hog building.
Was an original founder of the Western Wisconsin Renewable Energy Coop where I served for seven years as Vice President on the board. Today the ethanol plant that was built as the project came to fruition is known as Big River Resources when it was purchased from the co-op in 2012.
Hold a Bachelor's of Science in Ag Engineering Technology
Goals
Keep rates and costs reasonable
Change the structure of how capital credits are paid out after death
Adapt to new technologies coming down the road, such as electric vehicles, how we charge them, and the energy sources that fuel them (i.e., wind, solar, PV, and transmission lines getting electricity to where it needs to go).
Brian Johnson (Incumbent - Town of Grant)
I will continue to uphold and follow the policies and bylaws of your member-owned Dunn Energy Cooperative. With the potential regulation and legislative changes possible, working closely with board members and management will be essential in keeping your cooperative financially strong and energy rates affordable. Employee safety should continue to be a top priority for the board members and management. Renewable and alternative energy options should always be considered by the board. The Cooperative's continued support of the members and the communities it serves through scholarships and Operation Round Up are important to me as a director.
Qualifications
Dunn Energy member since 1980, as my wife and I are residents and farm in the Town of Grant.
Serve as the Secretary/Treasurer of the Dunn Energy Cooperative Board of Directors.
Currently, I am also on the Synergy Cooperative Board of Directors and have served on numerous other boards including church council.
Goals
Provide DEC's employees with the tools they need to continue supplying the members with reliable energy in a cost-efficient way.
Expand and explore renewable energy options without compromising prime farmland.
Promote installation of EV charging stations for residential and business members of Dunn Energy Cooperative.
District 3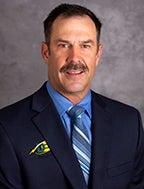 Jeff Gasteyer (Incumbent - Town of Eau Galle)
Hello, my name is Jeff Gasteyer. I have lived in Eau Galle Township all my life. I have been married to my wife, Diane for 39 years. I operated a dairy farm from 1980-2017 along with some steers, then switched to an all steer operation.
I currently serve on the Dunn Energy Board Director completing my first 3-year term. I, also, serve on the St. Peters Lutheran Church of Elmwood Church Council, Weber Valley Cemetery Board, and Chairman of the Eau Galle Township Building Feasibility Committee. In the past, I have served on the Dunn County Dairy Promotion Committee as President and Vice President, and a 3-year term on the Dunn County Solid Waste and Recycling Board.
Through attending district, state, and national meetings as well as completing the NRCEA director classes; it has allowed me to gain a wealth of knowledge which enables me to participate in discussions which are professional and informed during our board meetings. For example, in several classes by the NRECA, transparency was discussed. I was a leader in advocating for more transparency when the topic was discussed during our board meetings. I feel we have accomplished this in our summarized board minutes listed on the website. In a board room, not all information can be transparent due to confidentiality.
I think the Dunn Energy Board and our management team work well together making decisions for our cooperative members.  As a board member, I feel the board has vital, respectful discussions which are important for the success of the cooperative. Even though your opinion may be different at times than the majority; at the end of the day regardless of the vote; we respectively come together as a team.
Renewable energy has advanced from its conception and there is much more to come.  The battery technology will have a large role in the future:  from the cost of batteries… to the longevity of them …and the amount of storage time.  But with all good things; there must be a balance between renewable and reliable energy.  As more research and technology comes; this will be more achievable.
As your board member, I am proud to be a part of a great organization.  I would like to thank all the members for their past support and look forward to continuing to meet the member's concerns through the cooperative way.
Qualifications
Our farm has been a member of Dunn Energy since 1952, myself since 2006
Completed my first 3-year term as director – District 3
Received my Credentialed Cooperative Director Certification
Goals
To continue our strong financial position, while keeping our rates in line with our cost-effective way of doing business
Reliability – By yearly brushing, line maintenance, and upgrades, it will continue to enhance the cooperative's ability to keep the service the members rely on, as well as, the safety of our line crew
Keeping an open mind to all options of renewable energy that are cost-effective for this part of the country while balancing it with a "must have" reliable grid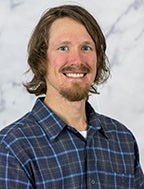 Andrew Zierl (Challenger - Town of Weston)
My wife Ashley and I have been members of Dunn Energy for fourteen years since we first began renting together. We now live in our forever home, which I built in 2016, in the beautiful Township of Weston. Ashley has taught for the Elmwood School District for the past twelve years and our son is currently a fourth-grader there. Together with our two small dogs, we enjoy the beautiful outdoors Dunn County offers: projects on our property including a large garden, canoeing the local rivers, and exploring hiking trails. I look forward to the opportunity to become more involved within our community. 
Qualifications
I have owned and operated my own construction company, AZ Carpentry LLC, since 2017. 
Graduated with a degree in Construction Management and Business from UW-Stout, 2006. 
Knowledge of better building practices for energy efficiency.
Goals
Continue to keep energy costs down, even with rising inflation. 
Exploring renewable energy and other forms of sustainable energy options.
Maintain communication between the board and members.
District 5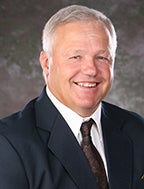 Ed Hartung (Incumbent - Town of Menomonie)
As director, I have realized the importance of reliable and affordable electricity. My goals are to provide you with a service that reflects the cost of providing electricity to your homes and businesses, work with fellow board members on the maintenance and construction of our electrical lines, and continue to explore different methods of producing electricity.
I have served on the Dunn Energy board for three terms. This will be the fourth term I am eligible for. Some of my past experiences include being a supervisor for the town of Menomonie for twelve years. I am a member of St. Joe's parish in Menomonie being a past member of the parish council and currently serve on the building and grounds committee. It has been my privilege to serve as a board member for you. Thank you for the opportunity.
Qualifications
Member of Dunn Energy since 1977 with my wife Elaine and our family. We are retired dairy farmers and continue to cash crop to this day.
A member of St. Joe's Parish. I have been a member of the church council and currently sit on the building committee
Former Town Supervisor for the Town of Menomonie as well as current director at Dunn Energy Cooperative
Goals
Keep electric rates at a reasonable amount that reflect the cost of providing electricity to your homes, as well as helping to maintain a strong financial position.
Ensure that we have a strong power grid through proper maintenance and construction of electrical lines.
Treat all members the same; listening to their concerns and comments and forwarding them to the whole board. When making decisions I will always keep the membership interest and concerns in mind.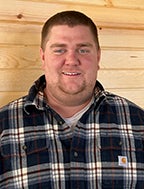 Justin Jensen (Challenger - Town of Menomonie)
Hi, my name is Justin Jensen. I grew up in rural Dunn County, south of Menomonie on my family's dairy farm. Our farm has been in the family since the 1880s. In 2009, my family sold the dairy cows and started raising beef. Today, my dad and I raise about 250 Holstein and Braunvieh steers along with farming around 800 acres of cropland consisting of corn, soybeans, and alfalfa. We also collect sap from roughly 10,000 taps on our woodland and about 15,000 taps of our neighbors to produce maple syrup in the spring. We sell most of the syrup to a large distributor in Wisconsin.
Agriculture is a very important part of my life and I find it very important to continue to learn new technologies to preserve our land and become more sustainable. One of my goals for the next 5-10 years is to become more involved in my county, and I am confident being a member of the Dunn Energy Board would help me fulfill this goal. On our farm, we rely on the board members to provide us with the energy to complete our everyday tasks. The board members have done an outstanding job in the past and I would be honored to work alongside other members to continue to provide Dunn County residents with reliable and affordable energy.
Qualifications
Owner and Operator - Jensen Family Farms (2011-Present)
Board Member - Menomonie FFA Alumni (2018-Present)
Vice President - Dunn County Fair Board (2018-2020)
Goals
Continue to provide reliable and affordable energy to rural Dunn County.
Aid in the growth of electric infrastructure to continue growth in electric usage among members.
Increase the usage of cost-effective alternative energies such as solar power.