Are you looking for a career with a stable, local, and community-minded company? Dunn Energy Cooperative is a not-for-profit energy provider with an 85-year history in Dunn County. We offer a competitive wage, pension, 401k, health and life insurance, holiday and paid time off, tuition reimbursement, and more.
Dunn Energy Cooperative is seeking two administrative professionals to fill the Member Service Representative - New Service Coordinator and Operations Coordinator roles. You can find more information on the positions and the hiring process by going to our Careers page.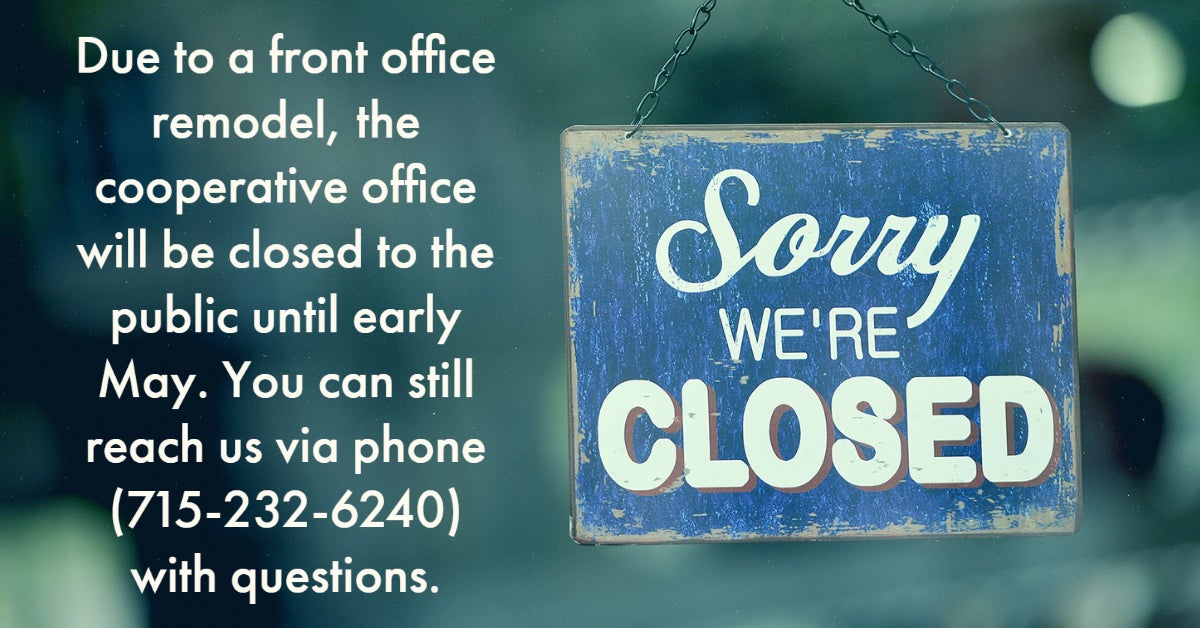 Beginning Monday, January 10, 2022 the office of the cooperative is closed to the public. As previously announced, the front lobby is being remodeled to add security measures. The public-facing restrooms are also being updated so they are ADA compliant. We are not closed for business. Just closed for traffic. You can still reach staff at 715-232-6240.
Members can still:
- Put payments in the dropbox
- Call them in through the phone system (844-749-3050)
- Pay online through SmartHub
- Mail checks in the old-fashioned way
SunDEC Community Solar went online in February of 2017. We started with 400 units for sale. Today, we have less than 30 units left to sell. The cost of the 250-watt units drops monthly, based on the remaining length of the contract on the system. If you are interested in purchasing the output of a portion of our community solar, please call the office and talk with one of our knowledgable staff members.
How do you know if Community Solar is for you? Ask yourself these three things:
Do you want to support renewable energy?

Do you lack the yard or roof space to install a solar array?

Do you live in a heavily wooded area where solar wouldn't work well?
If you answered yes to any of these questions, give us a call! 
You can see the real-time production of SunDEC on our Renewable Energy production page as well as the the offsets it has created.  
If you are interested in seeing what our whole renewable energy portfolio looks like, you can visit Dairyland Power Cooperative. There you will see that a good portion of our distributed generation comes from solar, wind, hydro, and landfill-to-gas energy.